The LiberTea Recipe
The LiberTea is an excellent American party tea. Made from water, lemonade, black tea, basil, Wild Turkey 101 bourbon and Wild Turkey American Honey bourbon, and served over ice from a large pitcher.
Ingredients
Directions
Boil 2 cups of water and seep the tea bags until desired strength.
Add 2 cups water and lemonade and stir gently, then pour into a pitcher full of ice.
Add the remaining ingredients, and stir gently.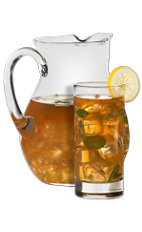 © CompleteCocktails.com
Categories: Orange Drinks, Pitcher/Punch Bowl, Fourth of July Drinks