Strawberry Dream Recipe
The Strawberry Dream shot recipe is made from Burnett's strawberry vodka, vanilla vodka and Kahlua coffee liqueur, and served in a chilled shot glass.
Ingredients
Directions
Add coffee liqueur to a chilled shot glass.
Slowly pour the vodkas over the back of a spoon to float them on top.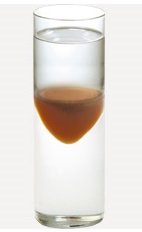 Credit: Burnetts
Categories: Shot Glass