Okinawa Island Recipe
The Okinawa Island cocktail is a unique blend of liqueurs, herbs and fruits served in either a chilled cocktail glass or a ceramic bowl. Made form gin, Midori melon liqueur, pineapple juice, ginger, kumquat, purple perilla leaves (mint), lemon juice and sugar.
Ingredients
Directions
Muddle the ginger, kumquat, lemon and sugar in the bottom of a cocktail shaker.
Add ice, gin, Midori and pineapple juice, and shake vigorously.
Strain into a chilled cocktail glass or a chilled ceramic bowl.
Garnish with a whole perilla leaf (member of the mint family), or with fresh mint.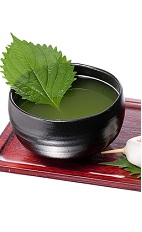 © CompleteCocktails.com
Categories: Green Drinks, Cocktail Glass