Holiday Lemonade Recipe
The Holiday Lemonade combines the traditional childhood flavors of lemon and Christmas candy to form a balanced cocktail enjoyed any time of the year. Made from Burnett's candy cane vodka and lemonade, and served over ice in a highball glass.
Ingredients
Directions
Fill a highball glass with ice.
Add candy cane vodka and fill with lemonade.
Stir gently and garnish with a lemon twist.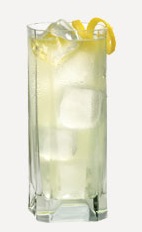 Credit: Burnetts
Categories: Yellow Drinks, Highball Glass, Christmas Drinks