Cherry Limeade Recipe
The Cherry Limeade is a red colored summer drink made from Burnett's limeade vodka, lemon-lime soda and grenadine, and served over ice in a highball glass.
Ingredients
Directions
Fill a highball glass with ice.
Add lime vodka and grenadine, then fill with lemon-lime soda.
Garnish with lime and a maraschino cherry.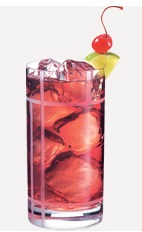 Credit: Burnetts
Categories: Red Drinks, Highball Glass