Old Sea Hag Recipe
T' Old Sea Hag be more than a pirate's old lady, it's also a pirate's favorite drink. Made from Burnett's spiced rum, orange juice and cola, and served over ice in a rocks glass.
Ingredients
Directions
Add ice t' an old-fashioned glass.
Add spiced rum and orange juice, then fill with Coke or Pepsi.
Garnish with a lime twist.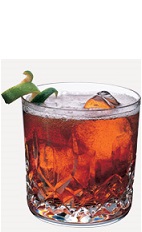 Credit: Burnetts
Categories: Brown Drinks, Rocks Glass, Talk Like A Pirate Day Drinks