Cookies N Cream Recipe
The Cookies n Cream is a classic dessert drink recipe made from Burnett's sugar cookie vodka, cola and vanilla extract, and served over ice in a rocks glass.
Ingredients
Directions
Fill a rocks glass with ice.
Add sugar cookie vodka and vanilla extract, then fill with Coke or Pepsi.
Serve without stirring.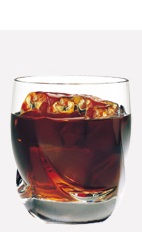 Credit: Burnetts
Categories: Brown Drinks, Rocks Glass, Dessert Drinks