Butter Cookie Recipe
Serve this shot at your next Christmas party to the delight of your guests. A cream colored drink recipe made from Burnett's sugar cookie vodka, Bailey's Irish cream and butterscotch schnapps, and served in a shot glass.
Ingredients
Directions
Shake sugar cookie vodka, Irish cream liqueur and butterscotch schnapps with ice in a cocktail shaker.
Strain into a shot glass and enjoy.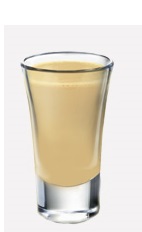 Credit: Burnetts
Categories: Cream Drinks, Shot Glass, Christmas Drinks