Cherry Breeze Recipe
The Cherry Breeze is an orange colored drink recipe made from Burnett's cherry vodka, pineapple juice and cranberry juice, and served over ice in a highball glass.
Ingredients
Directions
Fill a highball glass with ice.
Add cherry vodka, then equal amounts of cranberry juice and pineapple juice.
Stir gently and garnish with an orange slice.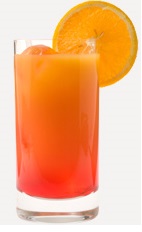 Credit: Burnetts
Categories: Orange Drinks, Highball Glass