Squashed Frog Recipe
The Squashed Frog is a multi-colored layered shot made from Midori melon liqueur, advocaat and grenadine, and served in a chilled shot glass.
Ingredients
Directions
Add grenadine to a chilled shot glass.
Slowly pour the Midori over the back of a spoon to form the middle layer.
Repeat with the advocaat to form the top layer.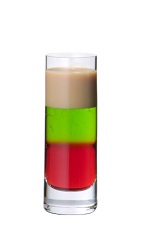 © CompleteCocktails.com
Categories: Brown Drinks, Green Drinks, Red Drinks, Rainbow Drinks, Shot Glass