Pumpkin Punch Recipe
The Pumpkin Punch drink recipe is an orange colored cocktail perfect for Thanksgiving dinner. Made from Burnett's pumpkin spice vodka, cranberry juice and orange juice, and served over ice in a highball glass.
Ingredients
Directions
Fill a highball glass with ice.
Add pumpkin spice vodka, and fill with equal parts orange juice and cranberry juice.
Stir well and garnish with an orange slice.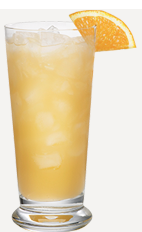 Credit: Burnetts
Categories: Orange Drinks, Highball Glass, Thanksgiving Drinks, Halloween Drinks