Crack Baby Recipe
Generally, crack babies are to be avoided, but this one should be welcome at your bar any time. The Crack Baby shot recipe is made from chilled 42 Below Passion vodka and chilled champagne, and served in a chilled shot glass.
Ingredients
Directions
Add chilled passion fruit vodka to a chilled shot glass.
Top with chilled champagne.
Garnish with a thin orange zest.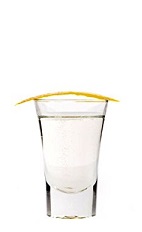 © CompleteCocktails.com
Categories: Clear Drinks, Shot Glass